DSL Ukulele Maroon/Brown Strap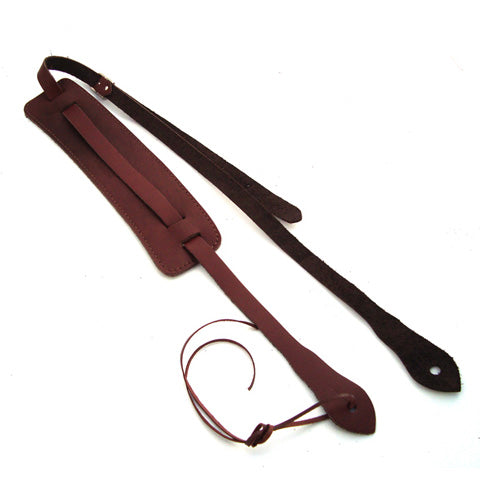 Brand: DSL
The DSL Ukulele Strap has been designed from the ground-up to be the most comfortable, exible and durable ukulele strap ever made. Much consideration was given to the typically petite size and unique playing technique of the ukulele.
Each strap uses a classic suede backed shoulder pad with special width tails. The rear tail attaches to the lower body strap pin, while the front tail attaches either to the upper body strap pin or ties behind the nut using cotton lace. The special width tails are designed to support the instrument without interfering with your fretting or picking hand.
The DSL Ukulele Strap is handmade in Australia from hand-sourced highest quality leather. The top of each strap is made from tough but supple medium weight leather, while the backing is premium quality suede.
Available in black, saddle brown and tan.
Handmade in Australia
Classic shoulder pad and tail design
Length adjustable with vintage style high quality steel buckle
Multiple attachment options to suit different ukulele styles
Medium weight top leather with premium suede backing used on pad
Special width medium weight leather tails
Back colour: Brown
All suede leather is treated with a special water-resistant layer to prevent dye run
Specially designed leather tails can be used with strap pins or tied behind the nut using attached string